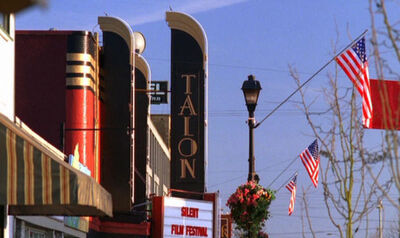 The Talon is a local coffehouse and hang-out of Daniel, Mariana, Cristiana, Diana, Inês, Cassandra and Leandra.
Physical Appearence
Edit
The Talon is located at 220 Main Street, Smallville.
Originally designed to be a movie theater, the exterior facade of the building has neon sign that, letter-by-letter, spelled out the theater's name repeatedly.
Inside the Talon had a modern coffee shop that features an Egyptian design motif, with ornaments in the form of sphinxes and hieroglyphics painted on the walls and pillars. The gold and yellow mixed with blue and violet of the walls harmoniously complemented the environment. The Talon also had lights stuck on the walls, porches and stairways that lit up at night.
The coffee house had individual tables scattered all over the place and also padded seats to ensure the convenience of its customers. It had a bar with stools, set in the middle of the place. The bar displayed the various candies and cakes, and also was where customers could place orders and empoyees could make coffee.
The building had a main entrance and a back door that opens onto a side street behind the building which is often used as a parking area.
In addition to the main coffeeshop, there were three private areas in the building: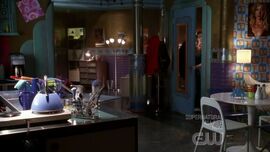 An apartment located at the top that accessed through internal stairs.
A basement used for storage.
A small movie theater that on occasions provided functions to the public.
Hide the Secret
Edit
Daniel talks to his friends about a place where they could hang out, and he decides that the Talon was a good place and they all agree.
Then they all make the promise of never telling anyone about their powers.
The group went to the talon after the explosion of a meteor rock in front of the school.
LuthorCorp.
Edit
The group was celebrating Gonçalo's third place at the nacional champioonship at the Talon.
After the party the group is attacked by LuthorCorp. guards and taken to level 33.1.
Employees
Edit
Community content is available under
CC-BY-SA
unless otherwise noted.